New England Patriots: Sign Sidney Rice, the Time To Win Is Now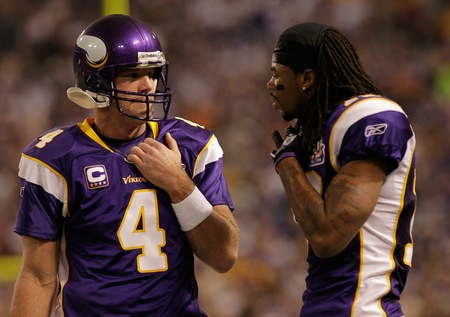 Face it fans, New England Patriots quarterback Tom Brady isn't getting any younger — he's getting older. Brady is turning 34 in August, and doesn't have too many "elite" years left.

This offseason is crucial for New England, and Bill Belichick needs to understand that.

Enough with MVP awards and Pro Bowl selections, it's all about the Vince Lombardi Trophies. Brady and the Patriots organization need to gain some rings out the final years of Brady's career.

New England has a good thing going here: a young defense, up and coming tight ends, quality receivers, and an elite quarterback. But, they need to keep adding.

During the dynasty years, the Patriots had the same core group of players for those three Super Bowls, and by adding a player like Sidney Rice could very well put the Pats over the top.

It's not like New England is in desperate need of a receiver; Wes Welker and Deion Branch are both very efficient receivers. But, Welker and Branch aren't as physical as they are good route runners.

The Patriots didn't need former wide receiver Randy Moss against the New York Jets in the playoffs, they need another type of receiver who could "physically get open."

Rice would be the ideal answer.

Not only does Rice have a large, athletic frame for a wide receiver standing in at 6'4", but he's a well-rounded player.

Rice can be a possession receiver, a deep threat, and more importantly, a play maker.

The four-year receiver has spent all of his seasons with the Minnesota Vikings, and most certainly has been a top tier receiver.

Spending most of last year hurt, Rice still had a productive season. Playing in six games, Rice managed to bring in 17 receptions for two touchdowns, averaging an impressive 16.5 yards for reception.

Rice's best season in Minnesota was 2009, quarterback Brett Favre's first season with the Vikings. Arguably, this was Rice's first season with a "decent" quarterback. He caught 83 passes for eight scores.

The past few seasons with the Vikings, Rice has spent it playing alongside slot receiver Percy Harvin. Harvin, who's' very similar to Welker, excelled with Rice's presence, and Rice can do the same with Welker.

Earlier this offseason, the Vikings neglected to place their franchise tag on Rice, which now allows Rice to enter free agency.

However, due to the uncertainty of a new labor deal for the NFL, free agency will be delayed. But, once free agency starts, the Belichick and the Patriots need to pursue Rice.